Electric toothbrush Kolibree
Toothbrush since its invention has undergone many changes and it seems that it has reached its evolutionary peak. But the company decided Kolibree add another bold idea and released, in their opinion, the best toothbrush. Feature of innovation is that it has access to the Internet. With this device, the owner did not forget to brush your teeth and will fully monitor the process itself.
Best toothbrush from Kolibree
Via Bluetooth brush can be synchronized with your smartphone and display information on the screen. The mobile device receives data about the movements of the brush and its bristles contact with the surface of the teeth. The device analyzes the information and reports to the owner, whether he was brushing teeth better or worse, if there is enough time, he pays in confined areas and cleaning in general. The manufacturer claims that it will help to adjust timely action and to preserve the health of the teeth.
Toothbrush
The company provided an opportunity for developers to create a variety of smartphone applications that will use the data obtained from the sensors of the device. Thus, the manufacturer wants to increase interest in the daily oral hygiene.
For example, the number of minutes for which the person was brushing my teeth can be redeemed for rewards in the game. In the first place it draws the attention of children and makes exercise fun, and the parents, in the meantime, it is possible to check whether their children brush their teeth.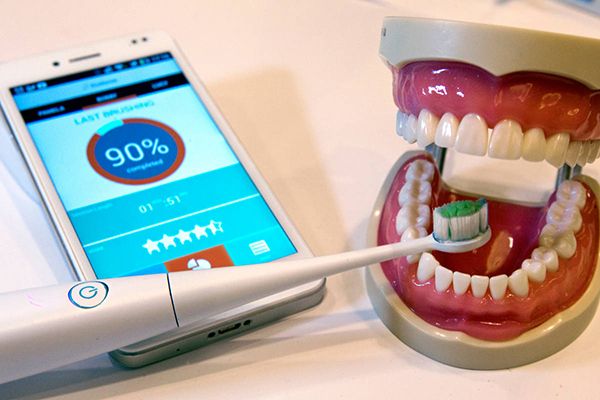 Application capabilities from Kolibree
One of the advantages of the best toothbrush is that it can be used without charge up to 7 days, it is possible through Bluetooth transmitter last generation and perfectly crafted system power consumption. Charger and the device itself is safe to use in a high humidity environment. The fact that they do not open the electrical contact charging means induction occurs technology.
Best Toothbrush
We must pay tribute to the creators, they were able to put so many advantages in ergonomic body. The device easily fits in any hand, therefore, appropriate for children and adults.
Retail price of the best toothbrush from Kolibree not exceed the cost of competitors and is about 100 dollars.
Tags: healthKolibreeToothbrush