*/]]>
Recently we have a review of high-quality TV set-top box Xiaomi Mi Android TV Box. It is a really good Android TV box with Android TV 6.0 and useful functions. Although its price is not so much – $79.99, some people are still looking for a cheaper option.
Today we review SCISHION V88 – one of the cheapest TV set-top boxes on the market. Despite the low enough price – only $25, it copes well with its main task – playback onlineoffline video and TV.
GearBest gave us SCISHION V88 TV Box for review.
[su_button url="http://www.gearbest.com/tv-box-mini-pc/pp_401685.html?wid=21&lkid=10423270″ target="blank" style="flat" size="8″ center="yes"]Buy SCISHION V88 TV Box for $24.99[/su_button]
First, let's take a look at specifications list of SCISHION V88:
4-core processor Rockchip 3229GPU Mali-400
1 GB of RAM
8 GB of internal memory
Android 5.1
Support SD card up to 16 GB
Interfaces: AV, DC Power Port, HDMI, SD Card Slot, SPDIF, USB 2.0
Packaging
SCISHION V88 TV box has a standart package. The device is shipped in a black box. On the front panel is written OTT TV Box (I do not know what that means). We did not find any more information.
Inside the box there is a TV box, remote control, HDMI cable, power supply, English user manual.
Remote Control
SCISHION V88 remote control is light and comfortable. It has many buttons, unlike Xiaomi Mi Android TV Box. Here you will find buttons for TV menu items, for example, Media, TV, Web, App. In the center is the standard joystick and OK button. On the right side is Mouse button, which activates the cursor on the screen. At the bottom there are buttons with numbers and a keyboard, like a button phone.
Remote control is powered by 2 AAA batteries. It works through IR port, so you need to clearly point it to TV box for control.
Design
TV set-top box is surprisingly very light. It feels like there's nothing inside. The manufacturer website says that the weight SCISHION V88 is 140 grams.
SCISHION V88 TV box has a square shape with rounded edges. It is made of plastic. We liked the coating, which does not leave fingerprints and dust. Interestingly, the TV set-top box has a thick enough body, and it's good! We do not understand why some manufacturers make TV boxes very thin. Such devices are usually located under TV, and do not require much space. In this case, a thicker body allows cooling of internal components and air circulation, so Android TV box does not heat up.
As for heating – on the bottom of SCISHION V88 there are ventilation holes through which cold air enters. Also there are rubberized legs that raise the body above the surface, which also contributes to cooling the device.
At the left side you will find 3 USB connectors and SD memory card slot.
On the back of TV box is another USB connector, audio and video connectors (SPDIF and AV), DHMI port, Ethernet and power. Also you can see two long holes. They are designed for the release of warm air.
When SCISHION V88 is working, a large blue LED is on the front panel. If it prevents you from watching movies or TV, you can deploy TV box to the wall.
Performance
SCISHION V88 works on Rockchip 3229 processor with Mali-400 graphics accelerator. It is a fairly weak configuration. But, as using showed, TV box is coping well with its main task – to play movies and TV.
Also, SCISHION V88 has 1 GB of RAM and 8 GB of internal memory, which can be expanded with SD memory cards or USB drives.
Below you can see the screenshots from Antutu and GeekBench performance tests. In fact, we are not interested in scores, but in technical specifications.
Using SCISHION V88
When you first turn on SCISHION V88, you do not need to make any settings. Just connect TV box to the power and TV, and it will turn on yourself.
You will see the main screen of Android TV box that is consist of Online Video, My recommend, Settings, My Apps, Music, Local, etc.
Let's take a look at Settings menu. It does not differ from the settings menu on any other Android smartphone or tablet. You can see settings menu and its options on screenshots below.
Now open My Apps. We already have several useful applications, for example, APKInstaller, Netflix, KODI, Google Play Store, YouTube, Skype and others. We liked that TV box comes rooted, as SuperSU application says. It allows you to customize TV box for your preference.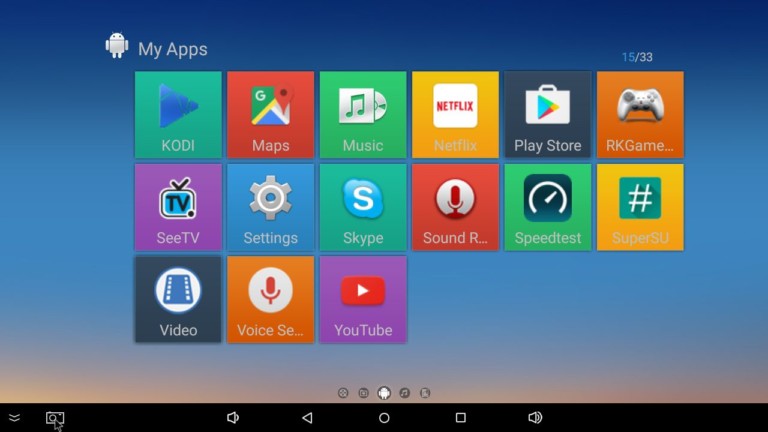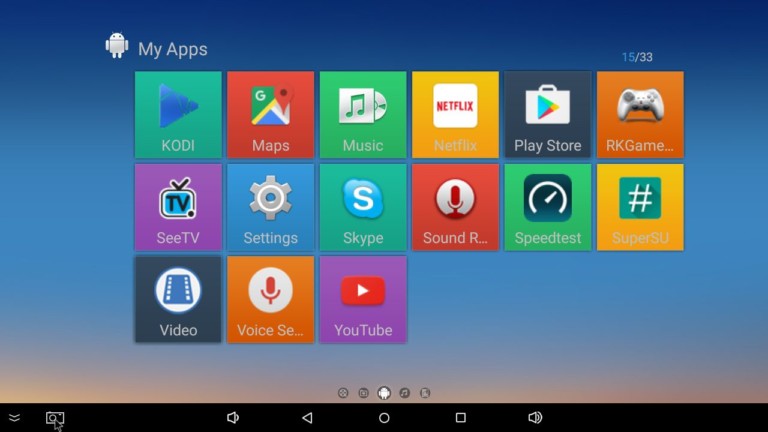 SCISHION V88 has 8 GB of internal memory, of which 5.49 GB is available.
You can manage files through FileExplorer application installed by default. Here you can manage files on internal memory, SD card, USB drive, SATA or NetHood.
Also, TV box has a built-in browser for surfing websites. If you do not like it, you can always install any other from Google Play Store.
Google Play Store has a standard interface, like smartphones and tablets. As you remember, Xiaomi Mi Android TV Box has a special version of Google Play Store, which is optimized for TV, so you can install applications that are only optimized for TV. SCISHION V88 allows you can install any applications that are available on Google Play Store.
We've opened YouTube to check the image quality. The manufacturer's website says that TV box supports 4K resolution. Unfortunately, it is not true. But we did not expect this from the device for $24.99. As you can see on screenshots from Antutu, SCISHION V88 supports only HD (1270×720) resolution. Also, YouTube allows you to play video in HD resolution. It says that TV bo supports only HD resolution.
But we have to note that image quality is quite good. The colors are bright and saturated. Look at the screenshots below to check the quality.
In addition, we connected SCISHION V88 TV box via Ethernet cable. YouTube videos were loaded instantly, we did not notice any delays. TestSpeed app showed that download speed is about 51 Mbps, and upload speed is 91 Mbps. We believe that it is an excellent speed for launching any online services. Of course, Wi-Fi the speed will be a little lower, but it is still enough to watch online videos.
Conclusion
SCISHION V88 TV box is a good deal for a reasonably low price. It offers the familiar Android interface and familiar apps, such as YouTube, Google Play Store, etc.
The device has many connectors: 4 USB ports, Ethernet, audio and video connectors, DHMI, SD slot. SCISHION V88 is practically not heated and works quickly enough.
Among the significant disadvantages, we noticed only one: there is no real Full HD (not to mention 4K, as manufacturer website says). The device supports only HD (1270×720) resolution.
The most important part is price. SCISHION V88 TV box costs only $24.99. We think it is a great deal for those who use TV Android box for the first time and want to try what it is.
[su_button url="http://www.gearbest.com/tv-box-mini-pc/pp_401685.html?wid=21&lkid=10423270″ target="blank" style="flat" size="8″ center="yes"]Buy SCISHION V88 TV Box for $24.99[/su_button]
Tags: AndroidGearBestReviewSCISHIONSCISHION V88TV BoxTV set-top box