*/]]>
Modern smartphones have excellent displays, high performance, great cameras and many other interesting features. It would seem that it is impossible to make them better, but there is still one thing that still needs improvement. We are talking about battery. Yes, the battery is the weakest point of any modern phone, and manufacturers are looking for a way to solve this problem. Some people come up with fast charging technology, while others increase the battery capacity.
HOMTOM HT70 has a huge battery capacity of 10000mAh, and it also supports fast charging technology. Of course, I cannot call it a perfect mobile device, because it is very thick and heavy, but if you need a modern smartphone with long battery life, then HOMTOM HT70 will be a good option for you.
As you understand, today we have full review of HOMTOM HT70. Below you can find a link where to buy the smartphone cheaper. Also we want to thank the online store GearBest for providing a sample for review.
[affcoups template="list" id="25194″]
Unboxing
1 of 3 — +
A box with a smartphone is not much different from other budget devices. This is a solid black box with a company logo on the front and specifications list on the back. Here you can read the basic features, such as screen, processor, camera, battery, network and so on.
Now let's open the box and see what's inside. Here we see a smartphone in a transparent factory package. Also HOMTOM HT70 has a factory film on the front and back panels. They should be removed before using the phone.
1 of 10 — +
The package includes following accessories: charger, USB cable, OTG cable, adapter from USB Type-C to 3.5 mm audio jack, user manual, silicone case and protective film.
As you can see, the smartphone has a very good package. The manufacturer understand that the lack of 3.5 mm audio jack may be a problem for some people, so it added an adapter. Also, there is an OTG cable, because you can use HOMTOM HT70 as power bank for charging other phones. We will talk about this a little later in our review.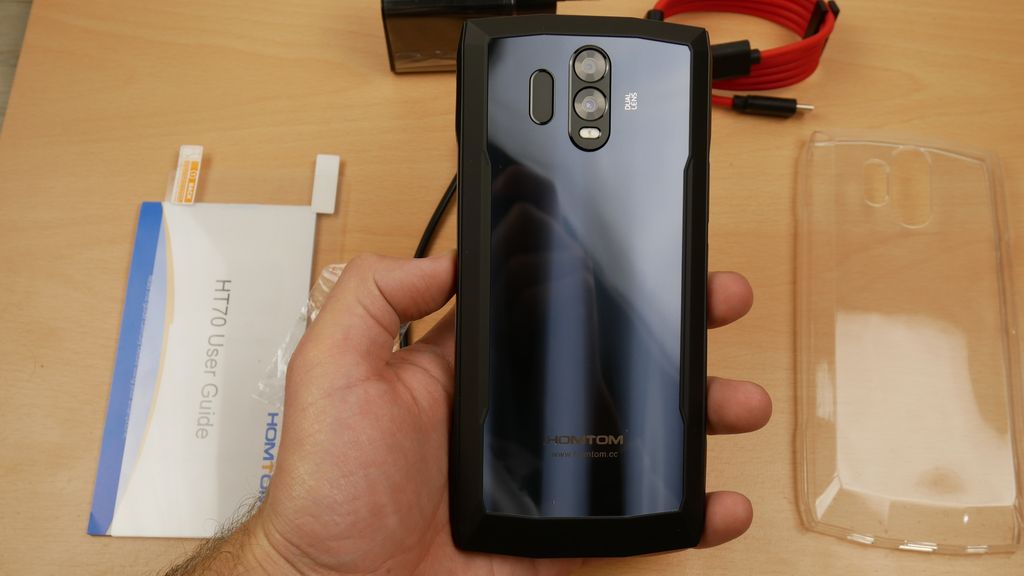 Design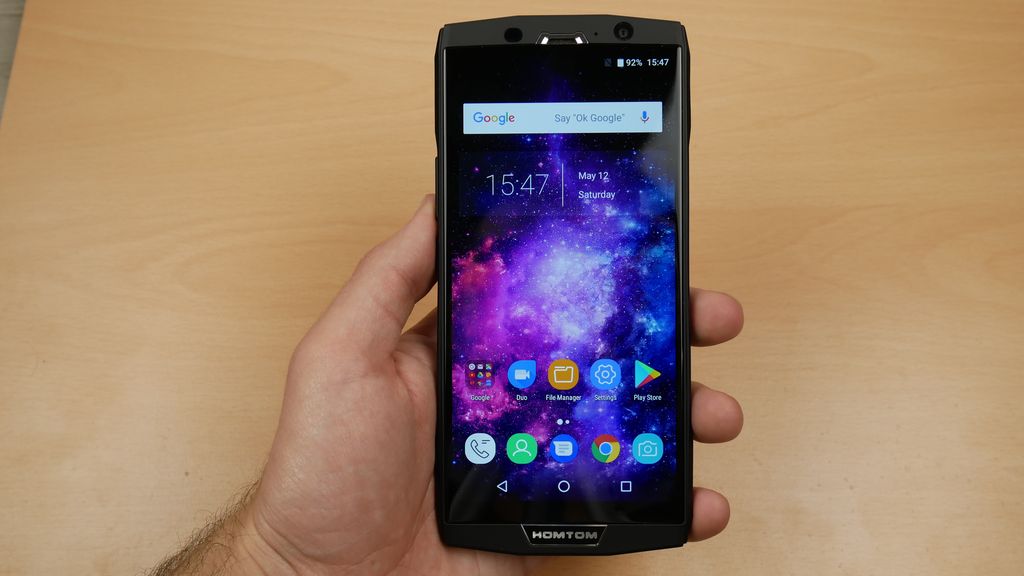 No doubt, design and battery are the main features of HOMTOM HT70. The smartphone has an unusual design, because it has a large battery! Yes, the smartphone is thick, heavy and it is generally difficult to use with one hand. On the other hand, it has modern full screen design with a large screen. The smartphone looks and feels very good.
1 of 3 — +
I want to note the excellent build quality. HOMTOM HT70 uses nanocomposite materials and plastic. You might think that this is a rugged smartphone, but it does not have protection against water by IP standard. You should not be immerse in water or even use in the rain – most likely, the smartphone will not survive it.
On the front panel, you can see a large screen. Despite the fact that the bezels on sides are quite thin, the display has a black frame around it. I do not know it is needed, but the smartphone would look much better without it.
1 of 2 — +
Under the screen, you can see HOMTOM logo, while the top has front camera and other sensors.
The textured power button and volume rocker are on the left side, while slot for SIM cards and memory cards on the right.
1 of 2 — +
At the bottom, there is only USB Type-C power and speaker grills.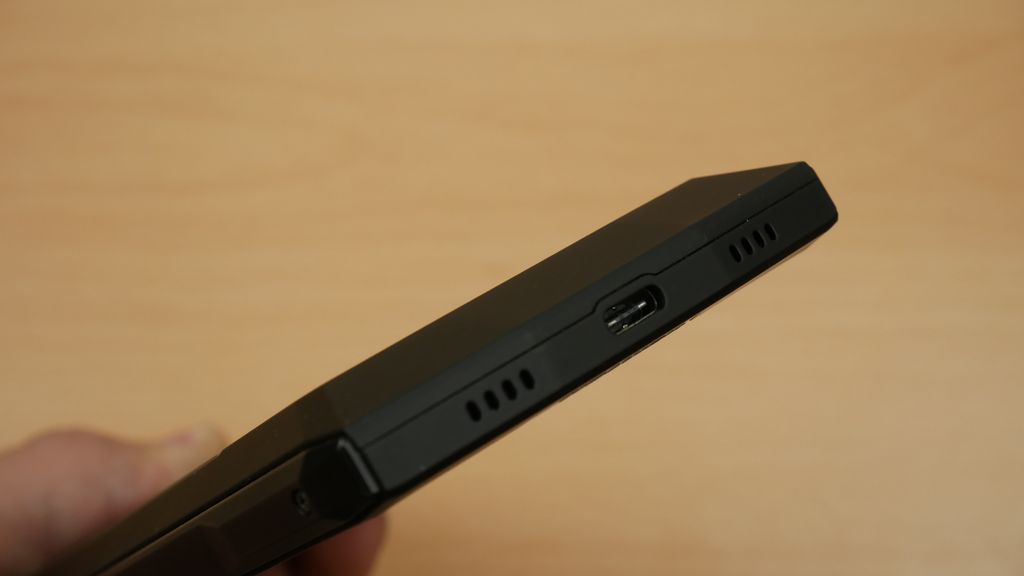 As for the back panel, it looks very interesting. While the body is made of rubber plastic, the back panel has nanocomposite cover that looks like a glass. HOMTOM HT70 has a curved back panel, and it makes it more comfortable to hold the phone in hand. There is a dual vertical camera, flashlight and fingerprint reader.
As I said, design is the key feature of HOMTOM HT70. It will be difficult for you to avoid the attention of your friends when using this smartphone.
Display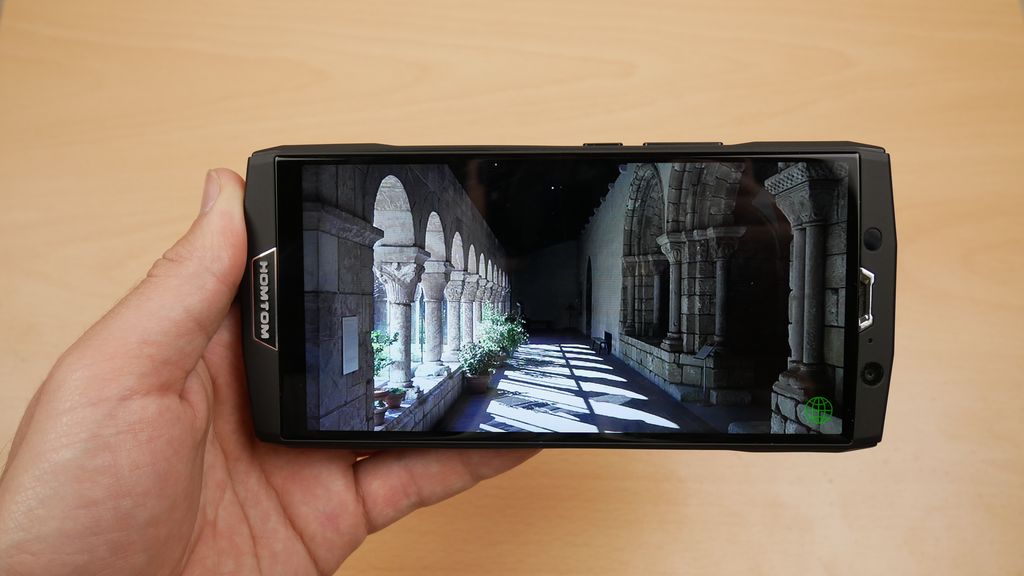 Do not forget, HOMTOM HT 70 is a budget smartphone, so it does not provide flagship specificaions. The screen is an example. Yes, it's big, bright and colorful, but only HD+ resolution, 1440 x 720 pixels. I believe that this is enough for most people, but the fact is that the difference between Full HD and HD really noticeable.
1 of 6 — +
I almost forgot, the display diagonal is 6-inches and the aspect ratio is 18:9. This is all you need from the smartphone in 2018!
Software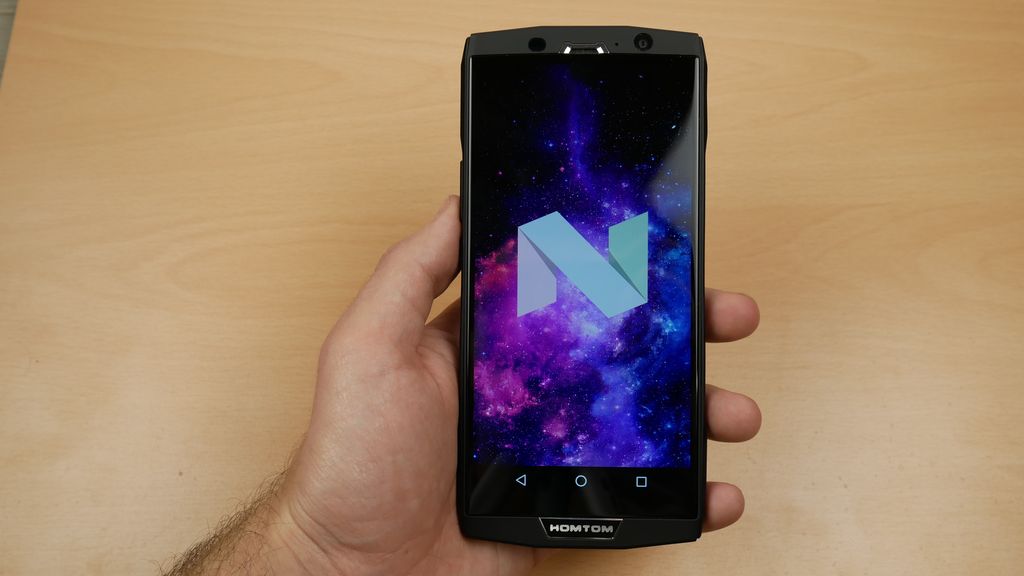 Let's talk a little about the software. Why a little? In fact, there is nothing to talk about. HOMTOM HT 70 runs on almost stock Android 7.0 Nougat . The main differences are in customized icons.
1 of 5 — +
Despite the fact that this is a Chinese smartphone, it has Google Play Store, YouTube, Maps and other Google services. As you know, Google services do not work in China, which means that HOMTOM HT70 is oriented to the international market. Of course, it has multilanguage support, including English, Spanish, Russian and other.
1 of 12 — +
In general, I did not notice any problems with software. UI works quickly and smoothly.
Performance
Budget smartphones have become much more powerful in recent years. Today, for only $150, you can buy a good phone to play the latest games. HOMTOM HT70 has MediaTek MTK6750T CPU with 1.5GHz, 4 GB of RAM and 64GB of storage. There is support for microSD memory cards up to 256GB.
1 of 2 — +
We have already done synthetic tests, and you can see their results in the screenshot below. Also we played in the latest Android games such as PUBG Mobile, Tekken and Asphalt 8. All of them start and work pretty well, but there is one problem. The smartphone heats up strongly during a heavy load. I do not think that the device will explode or catch fire, but I recommend taking breaks between games to make the smartphone cool slightly.
1 of 4 — +
1 of 3 — +
1 of 3 — +
As for the user interface, I did not notice any problems. Everything works correctly, applications run without errors, multitasking is good, etc.
Camera
1 of 4 — +
I have some questions for HOMTOM HT70 camera. On paper, the camera looks pretty good – there is a dual rear camera of 16-megapixels and 2-megapixels. There is a 13-megapixel camera in front. Sounds pretty good huh? But in fact, the quality of the photo does not differ from many other budget phones.
In general, the shots are pretty good in good lighting. They are detailed and have natural colors. If you shoot indoors or in poor lighting, for example, at night, then the quality drops dramatically. There is a graininess and overexposure due to streetlights. On the other hand, this is the problem of all budget phones.
1 of 20 — +
As for the video recording, here is a very strange situation. The phone shoots video in Full HD resolution. It is quite smooth, and has good colors. However, I do not understand why video is blurry. I did focus, taped on the screen, but the video is still fuzzy.
I took photos and record videos on stock camera app, but some people say that you need to use Google Camera App.
Battery
Finally, the battery! This is the main feature of HOMTOM HT70. The smartphone comes with a huge battery with a capacity of 10000mAh. This is twice, and even three times more than many other modern smartphones. If most mobile devices provide about 1 day of battery life on a single charge, then HOMTOM HT 70 will work up to 3 days.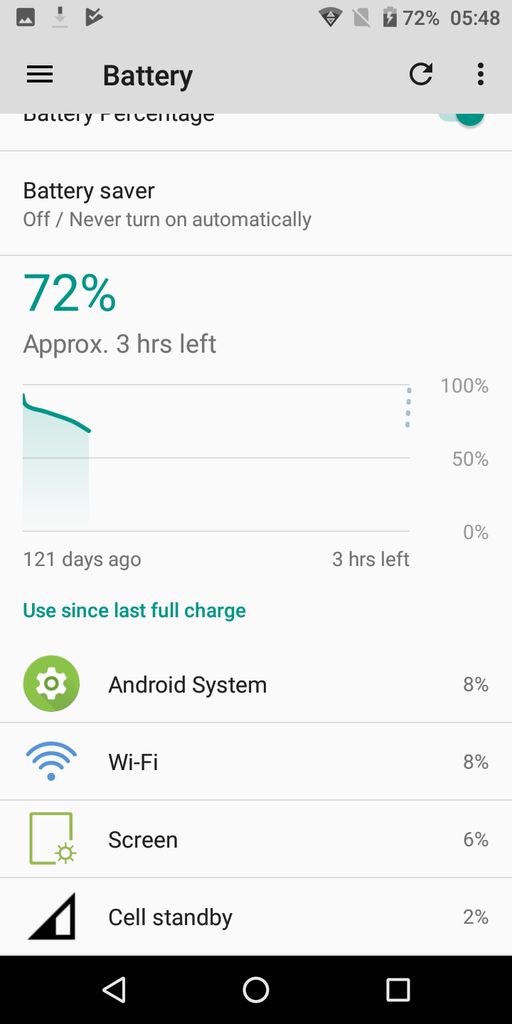 To be precise, my tests showed the following results:
15 hours of video playback;
12 hours of gaming;
3 days of moderate use with surfing Internet, games, watching videos onYouTube, messengers, and other stuff.
The smartphone supports fast charging technology 9V/3A. It takes about 3 hours to fully charge the battery.
I already said before, HOMTOM supports OTG technology. HOMTOM HT70 can be used for charging other devices. You do not need power bank with HOMTOM HT70!
Connections
A few words about available connections. HOMTOM HT70 supports dual SIM cards, but there is a hybrid slot, so you can use two SIM cards at the same time, or one SIM card and microSD card.
The smartphone is unlocked and supports most 4G LTE networks around the world. However, it is better to check your network on the official website.
As for mobile communications, I did not notice any problems with Wi-Fi or GPS. Everything works perfectly! I do not have any complaints about connections.
1 of 6 — +
Conclusion
It was full review and unboxing of HOMTOM HT70. After a week of testing, I am ready to make conclusion about this smartphone. As I said, the battery is the main feature of HOMTOM HT70. In addition, the battery is the main reason why this phone has very unusual design. It is quite heavy and thick.
As for the screen, performance and cameras, they do not differ from other budget phones. You can play the latest games on HOMTOM HT70, but the smartphone is very hot after long gameplays.
The camera does not offer anything interesting, so you will have the most common images, and even unfocused video. As for the battery, yes, it really deserves attention. 10000mAh battery provides up to 3 days on a single charge.
Therefore, if you are looking for a budget phone with very big battery, then HOMTOM HT70 is good phone.
We found the best price for HOMTOM HT70. Click the link below to buy phone cheaper.
[affcoups template="list" id="25194″]
Tags: 10000mAhbatterybig battery phoneHomtomHOMTOM HT70HOMTOM HT70 batteryHOMTOM HT70 cameraHOMTOM HT70 featuresHOMTOM HT70 gearbestHOMTOM HT70 priceHOMTOM HT70 release dateHOMTOM HT70 reviewHOMTOM HT70 specsHOMTOM HT70 testHOMTOM HT70 unboxingHT70