Old churches or crowded beaches? Architecture of ancient cities or semi-legal parties? Luxury hotels or a romantic campfire? Today we will try to find out what this place draws in thousands of tourists every year.
A bit of theory
Goa – the smallest in size and one of the smallest state of India in terms of population, which does not prevent him from being one of the largest "turistooborotu" place in this country. Attracts travelers and vacationers here many attractive locations and events. Someone will fall to the liking of the local beaches, coupled with the hot and humid climate, someone wants to commune with a unique blend of European and Indian culture and religion, and some devoted to travel to this place for the sake of "complete separation", aided by local trans-party (recall that Goa – the birthplace of the eponymous Goa trance music).
Administrative staff is divided into two parts – the North Goa and South Goa. Any traveler should know that between the two halves, there is a huge difference. And it is in the prices and crowded. South Goa – a place of peace and expensive prices. Beaches are located at a distance from each other, hotels – high class rooms and they are considered expensive by the standards of not only India, but by the standards of international standards. Therefore, if you consider yourself a rich man and want to spend time in the company of their own kind – you can safely take tickets in Margao (the county seat). North Goa – a place of unbridled joy and fun. There were no first-class hotels or nipping prices, but there are a lot of people, cows and beaches. If you find yourself there, you should rent a scooter for the duration of stay (about $ 100 per month) and visit all the interesting and important places and events. By the way, in North Goa many Russian tourists, therefore, not be difficult to find a company or just have a good time with good company, which is very conducive atmosphere reigning there.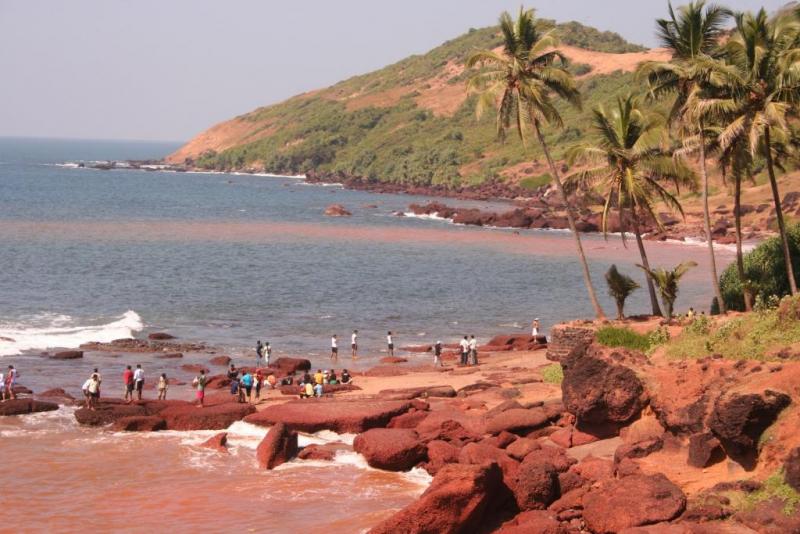 Goa climate is typical of tropical resorts. Period from May to September only suitable for very few fans of the hot weather, as the average temperature ranges between 27 and 30 degrees of heat and humidity at 70% state turns into a full bath. Dry season in Goa – from mid-December through February. At that time, almost no rainfall, but increased daily fluctuations in temperature (eg, at night – 20 degrees during the day – 32). Therefore, those who do not want to get any under huge showers or under debilitating heat, you should choose for a leisure trip between October-November and March-April. So, what is in Goa:
Beaches
In this section, we present ten of the most interesting from our point of view, beaches, located in Goa, dividing them into two categories.
Beaches in North Goa:
1. Beach Calangute (Calangute) was once famous for the fact that he was chosen by hippies from around the world, though it is a quite ordinary beach. Among other holiday destinations it highlights noise and a lot of people.
2. Anjuna Beach (Anjuna) also stands out from the mass of their entertainment. Here you can find nightclubs "Paradise" and "La Dolce Vita", as well as to visit the largest flea market "Anjuna Market" where you can find an extremely rare and unusual items and souvenirs. Perhaps this is the busiest beach of all existing in the state.
3. Morjim beach (Morjim) is replete with Russian names and customs. This so-called "Russian village". Here in large quantities can be found Russian signs, and Russian cuisine, which is natural, themselves Russian. As a logical conclusion – if you are not familiar with foreign languages, this place will be for you a real salvation.
4. Arambol Beach (Arambol) is a quiet and peaceful place with a long beach, where you can meet very cozy cafes and restaurants. In addition, near the beach you can find many locals huts in which the latter sell souvenirs.
5. Tirakol Beach (Tiracol) is perfect for those who want to enjoy the peace and tranquility. Located on the north of the state led to the beach nemnogolyuden. It is worth noting Hotel Heritage, which was once a fort Tirakol.
Beaches in South Goa:
1. Bogmalo Beach (Bogmalo) if specially designed for those who like comfort and do not like long trips. Located four kilometers from the Dabolim airport and eight kilometers from the port of Vasco da Gama makes getting to cozy sandy beach without loss of time and nerves.
2. Colva Beach (Colva) is notable for its prices. For a small (by the standards of South Goa) fee you get comfortable hotels and good restaurants, which can have a wonderful rest.
3. Palolem Beach (Palolem), as opposed to Bogmalo beach is one of the most remote places in the southern part of the state. But compensate for this lack of dolphins, which can be viewed in their natural habitat, and the opportunity to go fishing (alas, the bait to catch the dolphins can not).
4. If Palolem – one of the most remote, the Betul (Betul) – the most difficult to access. To get to it, have a ride on a motor boat. Replaced as the fact that the beach restaurants you will find the biggest and most delicious mussels from all possible.
5. Mobor Beach (Mobor) – miniature paradise on Earth. Amazing white lilies in ponds, small but beautiful islands and sand dunes – that's only a small part of what you can see here. Some unscrupulous hotels claim supposedly particularly beautiful part of the beach can use only their guests, but do not believe it – all the beaches belong to the state.
Attractions
Historically Goa – Centre of Portuguese India with its capital in Old Goa (Goa Velha). Today is the former capital has a little more than 5,000 people and is a small village, richly filled with monasteries and cathedrals. Decline of the city due to the fact that in the 17-18 centuries the capital was moved to Panaji due malaria epidemics. So Panaji officially became the center of the state, and for the Old Goa entrenched status of a cultural center, the city of monasteries and cathedrals. It is particularly interesting remains of the church of St. Augustine and the Archaeological Museum, dreary exhibits from the Portuguese colony.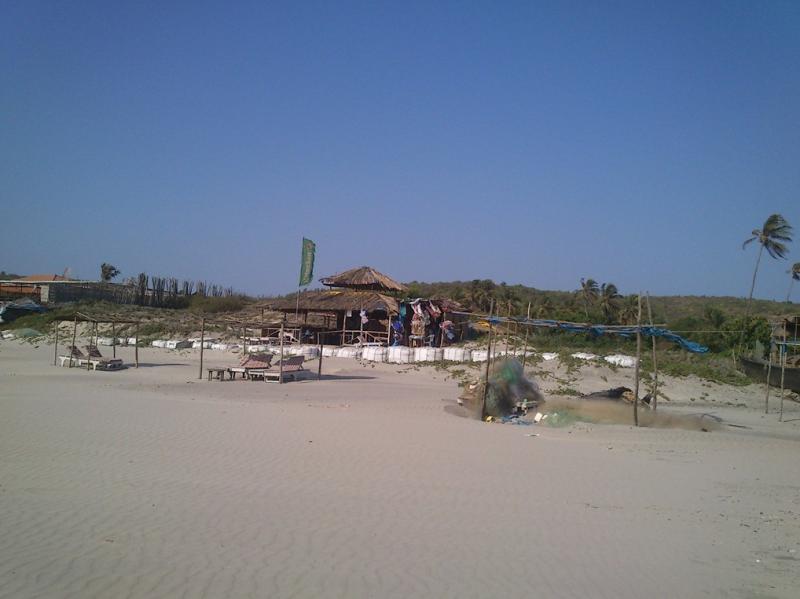 Narrow streets, small cafes and shops, a church in the midst of the area – all this awaits you in Panaji. We should also pay attention to the chapel of St. Sebastian, Church of the Immaculate Conception, as well as Fonteynhas and architectural complex Largo Da Igreja. Visit both cities preferably with guides who hold to interesting places and tell many stories.
Another of the attractions of Goa should be noted:
– The port city of Vasco da Gama. Known for being a major hub for tourists, as well as its riotous nightlife.
– Mapusa City, known Christian church of St. Jerome and Maruti temple. The temple was built in honor of the monkey god Harumana that in itself is interesting. As the town is known for its Friday market.
– Basilica of Jesus – perhaps the most famous temple in Goa. It contains the remains of St. Francis Xavier, Baptist Asia.
– Cathedral of St. Catherine – the largest cathedral in India and one of the biggest in Asia. In addition, famous because in May 1845 he was transferred to the mountains Wonderful Cross Boa Vista, then the cathedral began to rush of pilgrims.
– Dudhsagar Falls, also known as "milk waterfall" in 603 meters tall. Got its name because of milky water.
– Pandava Caves, located in the city of Margao. In the caves you can find unique inscriptions, dated the 7th century, explore the cave five halls, ornamented with frescoes, and the guide or the local population can be heard many legends associated with these caves.
Naturally, this is not a complete list of cultural, historical, spiritual and natural attractions of Goa, but the list above are collected places that should be visited first.
Entertainment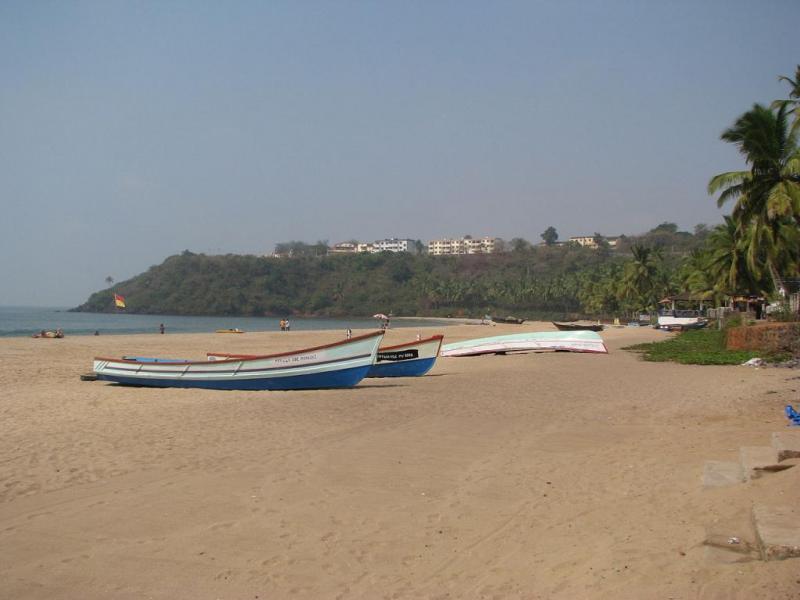 When not relaxing on the beach and sightseeing, you can take the time to engage in such an interesting, as "Indian shopping." Lesson is interesting primarily bargaining, as some prices are inflated at least 10 times, and leave by paying the original price – big mistake. In addition, the market and the combination is the arena in which you can meet musicians, acrobats, swords swallowers. So nothing prevents you, for example, braided dreadlocks Indian or enjoy a massage. All this can be done on Wednesday at the flea market in Anjuna and the Friday market in Mapusa. Markets work from dawn to dusk.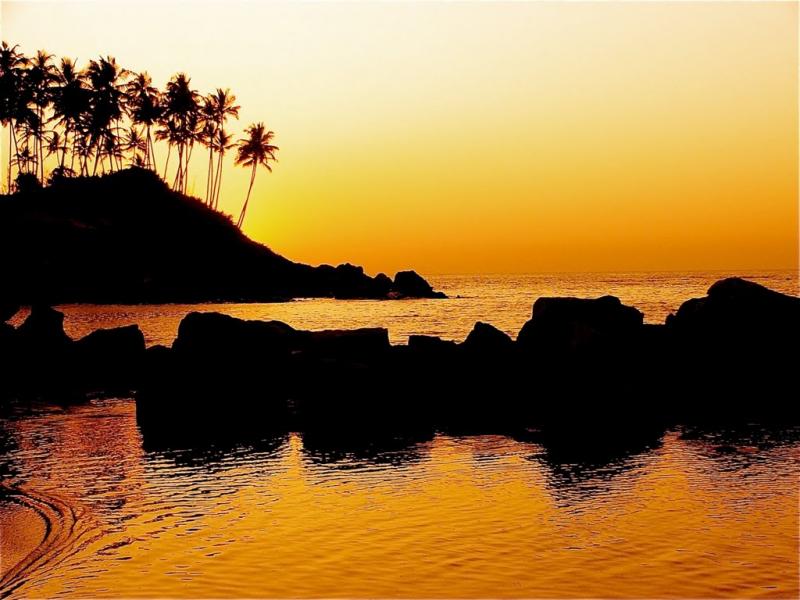 As a separate form of entertainment is worth noting trans-parties, where you can revel well. The only problem is that they are not entirely legal, so often about the party becomes aware of only half an hour before. But if it does take place, the time and place of holding will know all the local up to the kids running around the street.
In matters of residence should pay special attention to the North Goa. If in the southern part of hotels is easy to find, in the north they are not very popular. Here, take off your room or house, if you stay for a long time. Bedroom house with shower, kitchen, toilet and entrance hall can be rented for only $ 300 per month (residents of Moscow is now heavy sigh). If you want to rent a house for a few days, the bathroom with shower and toilet will cost you $ 6 per day.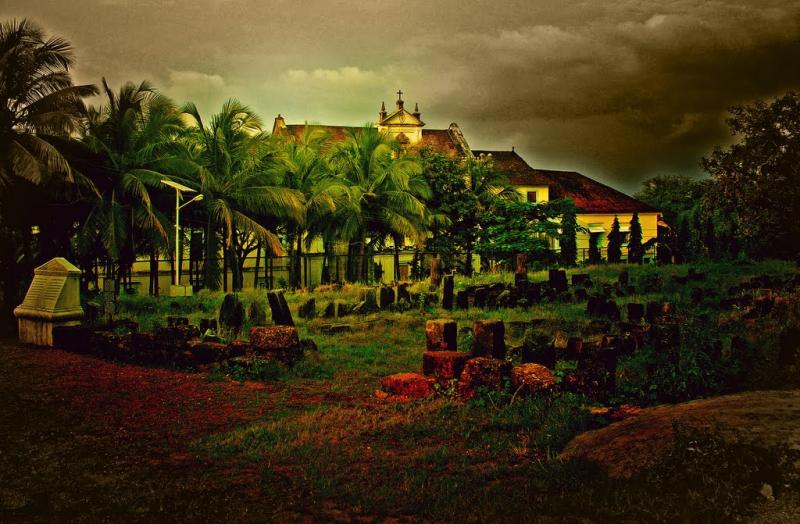 The kitchen is dominated Goa vegetables, fresh seafood and spices. And juices. Most diverse, but always natural and fresh. In addition, as in any tourist development site can be found in Goa restaurants for every taste. Here and national cuisine, and vegetarian restaurants, and even Russian cafe, where you can order good old dumplings. In general, the choice is enormous.
Instead of an epilogue
So what attracts crowds of tourists in Goa? Beaches and climate? City, historical culture of Portugal, the church? Party? The answer to these questions is: all at once. Goa accommodates and entertainment, and vacation on the beach, and varied cuisine, and attractions that are worth a look. Coupled with very different parts of the cities and the state prices, as well as opportunities for quiet and for leisure, we conclude that there is a place in Goa to all, regardless of status, age, gender and preferences. The main thing – to find its circulation in this colorful entertainment.
Tags: Anjuna Beach (Anjuna)Arambol Beach (Arambol)Beach Calangute (Calangute)Bogmalo Beach (Bogmalo)Colva Beach (Colva)GoaGoa beachesIf PalolemMobor Beach (Mobor)Morjim beach (Morjim)Palolem Beach (Palolem)Portugaltravel