In Europe, with children, to give a real fairy tale themselves and the kids? To mind our man usually comes only Disneyland Paris. Meanwhile, in Italy there is a wonderful alternative to him, which we know surprisingly little people.
Using the start of the season, we went to the Italian "Gardaland", one of the largest amusement parks in Europe, lying on the eastern shore of Lake Garda (the largest in Italy, by the way).
The idea of ​​creating a fabulous town originated from a group of ambitious Italian businessmen headed by Livio Furini after a trip to California, they have taken in the early seventies of the last century. Disneyland opened in Anaheim, California in 1955, impressed the guests with the peninsula so that they decided to implement a similar project "at home" and, if not overshadow the brainchild of The Walt Disney Company, or at least create him compete. Inauguration of the new park was held July 19, 1975 (by the way, Disneyland Paris opened its doors almost two decades later.)
Starter set rides much less impressed most pompous ceremony, but for a modest period of time "Gardaland" seriously expanded and in 1984 met the millionth visitor. The current "Gardaland" – is not just 500,000 square meters of steep and inventive rides for children and their parents, but also a fabulous world, living by its own laws invented. Doors open park since April – offensive this month and marks the start of a new season of entertainment.
Get to the promised point B (in this case, point A was Milan, and vehicle – an ordinary passenger car) proved to be simple, but fascinating. Drizzling rain initially causes mild anxiety for the future experience, but high quality motorway and general elation allowed to push it into the background. The fact that very soon we will reach the wonderful world of Gardaland, began to resemble road signs with the coveted title on the profile. One and a half hours on the road passed very quietly, and now the car, following the regulator, slipped into the space in a designated specifically for guests "Gardaland" parking. We can say that luck on another day to choose a parking space, perhaps it would take more time than on the road itself, but apparently it was a kind of compensation for over unexpectedly precipitation. Looking ahead to say that, just as we only had to look around as the rain stopped, and among overhanging parks leaden clouds appeared glimpses of a day or a fine. Accordingly, improved mood and smile widened.
Buy tickets was very simple. Do not believe the advertising agencies and restless dealers that pre-buying online coupons input – the only way to get to this celebration of life. However, in some months, perhaps they are right: for example, in August – traditionally the hottest month for the amusement park Gardaland walk through when converted into solid resistance endless streams of people and vanity prevents enjoy obvious advantages of this wonderful place and see all its beauty. Luckily, the rain deterred many potential visitors to the park and we were able to freely navigate on its vast territory. Fortunately, there was a wonderful hands on a map where all the rides were divided into three groups and each had its own color: bright green were marked with adventure rides, red – a zone of extreme relaxation, and the blue color of the park got those objects that were meant to please the most small audience – still believe in the magic of fairy tales kids.
The first thing that caught my eye – safety issues addressed here at the highest level. Everywhere hang warning signs and prompt technicians whose backbone is strong and agile make young people aged 25 and older, indicates its presence in the park various recommendations, references and invariably in possession of smiles. Looking at them, for some reason, even in the head does not come to doubt the sincerity of emotion.
Unfortunately, in our humble place of small children was not, but if they were, they certainly would have seen Fantasy Kingdom – Magic Kingdom now where every toy farm animals with DO RE MI FARM comes alive with the first plant of the tractor.
Another remarkable fairy kingdom for the little ones – the so-called "Flying Island." Sign in them through this wonderful tree Petrushka that pitched their makeshift branch in the background.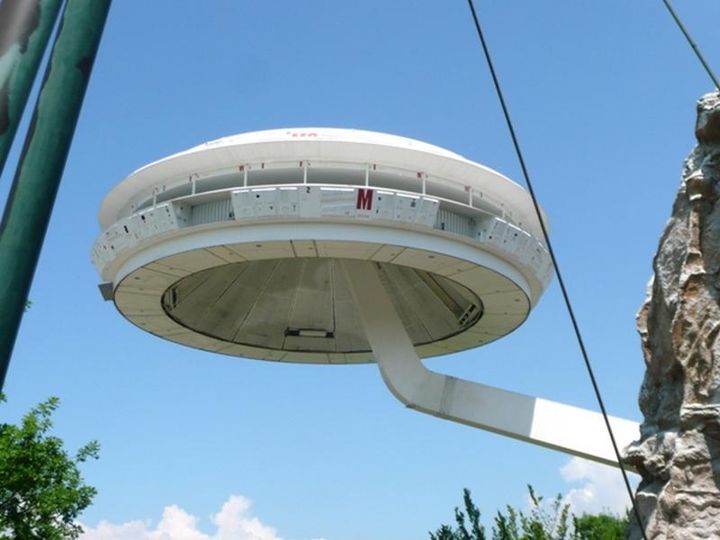 Those who are not yet allowed to ride on extreme rides for safety reasons, or no longer permits age are ideal adventure rides. Water attraction Jungle Rapids, Il risveglio, «Dogs" allowed to feel like a real Indian, make this exciting river rafting into the mouth of a volcano, explore the interior of the Egyptian pyramids or try a real pirate bandage. And once put on a bandage, then be kind, will take part in the search for hidden treasures. It is full of vital energy and sparkling humor rides, developing intelligence, wit and character of future men.
Those who from childhood "you" with speed and can not live without regular adrenaline in the blood, it is recommended to get acquainted with the so-called "red" attractions. One of them – a winged Raptor – took us a good long time, even worse than the vaunted rollercoaster.
Another – Blue Tornado – have in spirit to those who has a weakness for high-speed air vehicles. In our interest is not included, but the attraction still we liked.
Theme exorbitant speeds and steep descents logically continues attraction "Mammoth". With only one Correction: in the final you will have a meeting with a giant primitive beast. And although you would expect it from the very first minutes of arrival, each time it receives an unexpected and even shocking. It even seemed for a moment that the sleeping giant as if alive, and was ready to go on the run from our cries. Curious illusion!
Within a short period of time our vestibular apparatus was almost literally incapacitated, and forces other extreme rides, no less exciting and interesting, just left. While it would be very entertaining ride on the expressway "Colorado Boat" or make "Escape from Atlantis" and crumbling all around myriad spray would serve guarantor fervent uncontrollable laughter and fun.
Infrastructure "Gardaland" is considered one of the most advanced in the industry. Lovely Sea Life aquarium with thousands of rare marine life is the example of how you can not only skillfully entertain park guests, but also qualitatively luggage replenish their knowledge.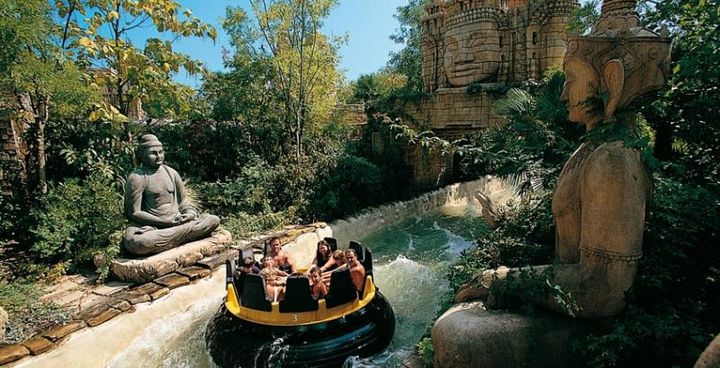 In the park, we counted a dozen different restaurants, bistros and cafes, transforming it into a comfortable sitting area. Fabulous scenery and great presence in the interior recognizable conceptual elements allowed to continue in the shower celebration played out as long as possible. Personally, we are very tasty dinner in the "Pirate's Lair" and were pleasantly surprised not only by the quality of service, but also more than affordable prices.
Managed to corner of my eye and look at the famous 4-star hotel Gardaland, recently built not far from the park. His appearance was a logical link in the chain, all the continued expansion of infrastructure and caused huge area "Gardaland". Many families come here for the weekend and, quite naturally, wish to inspect every square meter park. One day to do it is difficult, therefore, to book a room at the hotel and spend the night in it is quite a way out of a difficult situation. Incredibly enjoyable yield stress as a fairy tale, which began in the park, logically extends to the walls of this luxury building.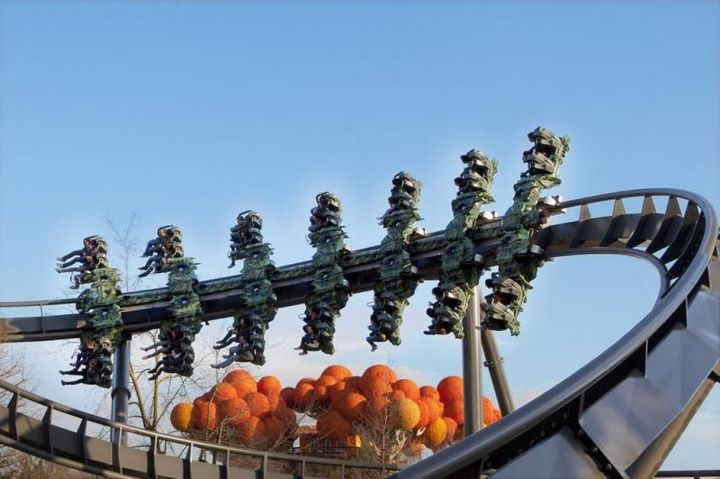 All good ends very quickly. At the end of the fifth hour stay in the "Gardaland" we are fully convinced of the truth of this maxim. The need to turn to the side of his parked car rested in absolute unwillingness to leave this special magical ether soaked tale. Tale, in which adults behave like children, and the children get a chance to experience the first time that an adult is available. Tale, in which there is absolutely nothing is impossible. Tale in which you want to live.
Tags: DisneyGardalandItaliantravel