Fitness trackers, smart bracelets and smartwatches have become a part of our lives very quickly. Many people find it difficult to imagine their life without these gadgets.
Smart bracelets are so popular because of their low price, convenience and long battery life. There are many fitness trackers on the market from Chinese manafuacturers, such as Xiaomi, Sony, MGCOOL, Samsung and others.
Yesterday another popular Chinese company introduced new smart bracelet called Elephone ELE Band 5.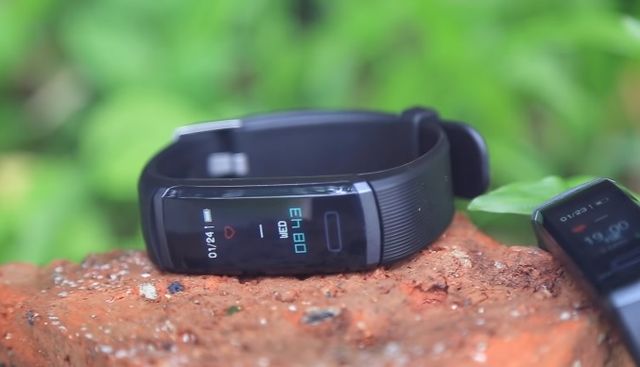 As you can guess, this is fifth generation of smart device. It means that previous models were popular, so the manufacturer continue to produce new generations.
Elephone ELE Band 5 is a competitor to Xiaomi Mi Band 2. Both devices are very similar specifications, functions and even design. Also they do not differ much in price. Which one should you buy in 2018? We will review Elephone ELE Band 5 and compare it with Xiaomi Mi Band 2 to answer the question.
[affcoups template="list" id="25278″]
[affcoups template="list" id="23516″]
Elephone ELE Band 5 vs Xiaomi Mi Band 2: Design
The design of both bracelets are very similar. They have identical shape and similar body materials.
However, Xiaomi Mi Band 2 has a removable capsule with display and hardware, which means that you can easily replace the strap. Elephone Band 5 has a non-separable design, and if you damaged the strap, then it will be difficult to replace it.
The back side of both bracelets have heart rate sensor. In Xiaomi Mi Band 2 and Elephone ELE Band 5 it is located in the same place, but has a slightly different shape.
Both devices have a minimalistic design, light weight and size. You can wear them with both classic clothes and sportswear.
Elephone ELE Band 5 vs Xiaomi Mi Band 2: Display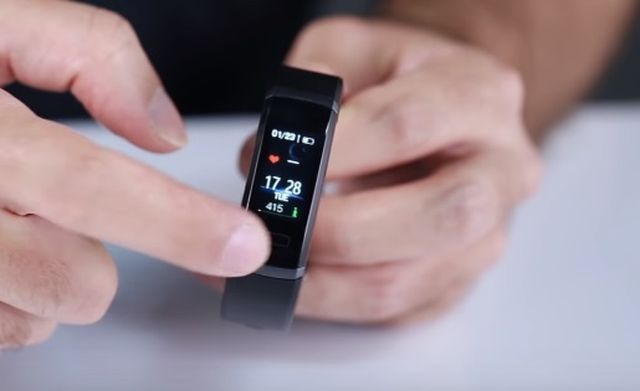 One of main advantages of Elephone ELE Band 5 is color OLED screen of 0.96 inches. It has touch button at the bottom of screen. The display diagonal will be sufficient to display notifications of calls and messages, as well as monitor the main activity indicators.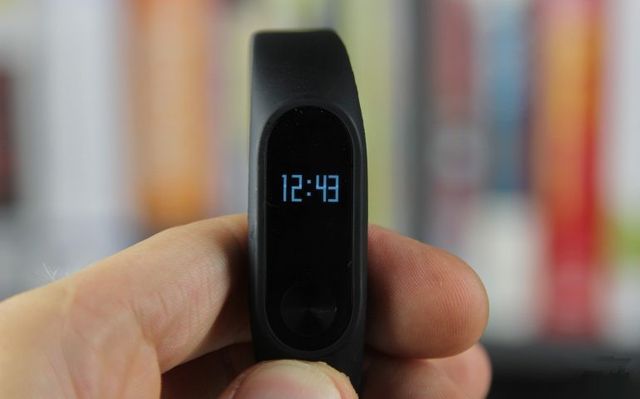 Xiaomi Mi Band 2 has monochrome OLED display with a diagonal of 0.42 inches. The design of the display is designed to save battery power. The brightness of the screen is low, so if you want to see any information from the fitness tracker in the bright sun, you will have to find some shadow.
Elephone ELE Band 5 vs Xiaomi Mi Band 2: Hardware
The functions of these smart bracelets are exactly the same, so it's difficult to choose the best one.
Here is the full list of Xiaomi Mi Band 2 and Elephone ELE Band 5 features: time display, pedometer, burned calorie control, heart rate monitor, alarm clock, sleep phase control, display of notifications from smartphone apps.
Elephone ELE Band 5 can monitor the heart rate in 24/7 mode, but if you want to save the battery power, you should select a heart rate interval. Also, it is possible to adjust the peak of heart rate, and when you leave the set range, the bracelet will let you know about it by vibration.
The steps, the distance and calories consumed are counted accurately. There is support for remote control of smartphone's camera, a snapshot can be made by simply shaking the bracelet. This is the only function that Xiaomi Mi Band 2 does not have.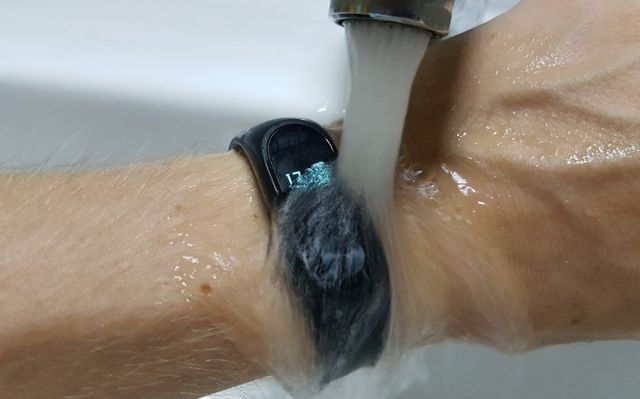 Since both smart bracelets are sporty, they have protection against water. Xiaomi Mi Band 2 and Elephone ELE Band 5 are protected from water by IP67 standard.

Elephone ELE Band 5 vs Xiaomi Mi Band 2: Battery
The battery life Elephone ELE Band 5 is inferior to Xiaomi Mi Band 2. Nordic 52832 processor with low power consumption and 90 mAh battery provides about 10 days in standby mode. Xiaomi Mi Band 2 with 70mAh battery can work up to 20-25 days in moderate mode.
Elephone ELE Band 5 vs Xiaomi Mi Band 2: App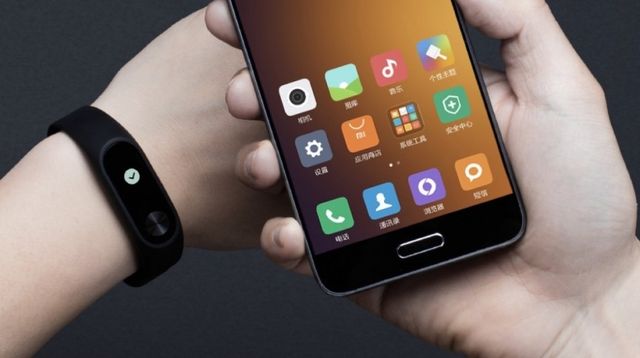 Bracelet from Elephone is compatible with smartphones running on Android 4.4 or higher, iOS 8.4 or higher. You need to install WearFit 2.0 application on your phone to monitor data from fitness tracker.
A fitness bracelet from Xiaomi is compatible with smartphones on iOS 7.0+ and Android 4.4+. It uses Bluetooth 4.0 connection and works through Mi Fit app.
Elephone ELE Band 5 vs Xiaomi Mi Band 2: Release date and price
Finally we got to one of the most important part when choosing a fitness smart bracelet – the price. Both gadgets are not very different from each other.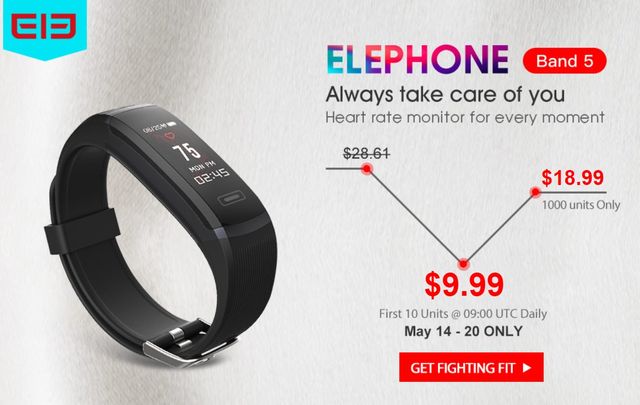 Xiaomi Mi Band 2 is already on sale for about two years, and now its price is $21.99.
Elephone ELE Band 5 is a new smart bracelet, and there is a flash sale on GearBest online store. You can buy new gadget for only $18.99. Also you can get it for only $9.99, but this price is only on the first 10 units every day. So, you should hurry up!
[affcoups template="list" id="25278″]
[affcoups template="list" id="23516″]
Tags: ElephoneElephone Band 5Elephone Band 5 2018Elephone Band 5 alibabaElephone Band 5 aliexpressElephone Band 5 amazonElephone Band 5 batteryElephone Band 5 buyElephone Band 5 designElephone Band 5 displayElephone Band 5 hardwareElephone Band 5 priceElephone Band 5 release dateElephone Band 5 reviewElephone Band 5 smartwatchElephone Band 5 specsElephone ELE Band 5Elephone ELE Band 5 buyElephone ELE Band 5 compareElephone ELE Band 5 featuresElephone ELE Band 5 gearbestElephone ELE Band 5 priceElephone ELE Band 5 reviewElephone ELE Band 5 vsElephone ELE Band 5 vs Xiaomi Mi Band 2smart braceletsmartbandsmartwatchxiaomiXiaomi Mi Band 2 2018Xiaomi Mi Band 2 alibabaXiaomi Mi Band 2 aliexpressXiaomi Mi Band 2 amazonXiaomi Mi Band 2 buyXiaomi Mi Band 2 designXiaomi Mi Band 2 displayXiaomi Mi Band 2 hardwareXiaomi Mi Band 2 photoXiaomi Mi Band 2 priceXiaomi Mi Band 2 release dateXiaomi Mi Band 2 reviewXiaomi Mi Band 2 specs