Looking at the quarterly report Acer, could not dismiss the folk wisdom: "Who is liquid soup and who pearl chalk." Particularly offensive was for Apple: the company reports a record sales and market capitalization leaches out of $ 40 billion! Here – Full bleak, weighed to the same, as we shall soon see, by the absence not only prospects, but also a clear understanding of the picture of the future … And the market does not care. Can be done already flagged? Like not similar: still a glimmer of interest:
Well, God bless her, and the stock exchange. Much more productive to deal with the business by Acer and understand why the company is taking steps such strange to save a business that is doomed within the paradigm that selected five years ago.
First – just figures: net quarterly loss – $ 251 million, of which $ 44 million accounted for withdrawal "inventory supplies." By the end of fiscal year 2013 revenue ($ 12.1 billion) decreased by 16.2% in comparison to the previous year, and the total net loss of nearly $ 700 million in short, the complete darkness.
Why so bad at Acer, which even changed in late 2013 CEO Jason Chen rushed to the aid of chipodelnogo company Taiwan Semiconductor Manufacturing? (In my opinion, chipodel headed – it's the last thing today Acer, yes owner – a gentleman.) According to company executives, the main cause of failure – indifference to the market ultrabooks and laptops with touchscreens, which Acer has done the basic rate in the business business strategy.
The trick, however, is that the leadership of Acer disingenuous. At the time, the company is very responsive prointuichila changing environment in the computer market and quickly switched from "heavy" laptops that are not pulled out of the swamp even business thanks to the massive sales by dumping prices (remember, in the middle of the "zero" all counters Moscow stores were inundated with trehkilogrammovymi coffins Acer and Toshiba with monstrously faded 15-inch screens and incandescent processors AMD, but as low as 15 to 20 thousand rubles?), to produce a very elegant (what is called a sleek design!) Ultrabooks.
Now we are told that ultrabooks, even so beautiful, like Acer, could not cope with a horde of mobile gadgets (smartphones and tablets), attacked the consumer. But Acer's Ultrabooks did not stop! The company is very mobile was switched to the production of tablets and even tried to flirt with smartphones, buying great guys E-Ten.
Today, Acer continues to produce tablets in droves. You can, of course, assume that the reason for the failure rate in the operating system of Microsoft, from which the mobile market today, except that the horse has not shy. However, this assumption is incorrect: first, Acer had the wisdom not to mess with Windows RT, and a full Windows 8, which is installed on the line today Iconia (there he is, the only one, is on the table in front of me, squinting his hateful Metromordoy!), It is successfully fills a marginal niche mobile doubles desktop PCs, and secondly, Acer manufactures and tablets running Android (eg, Tab 7 or Iconia A1), which, however, are sold no better than any tablet or ultrabook company.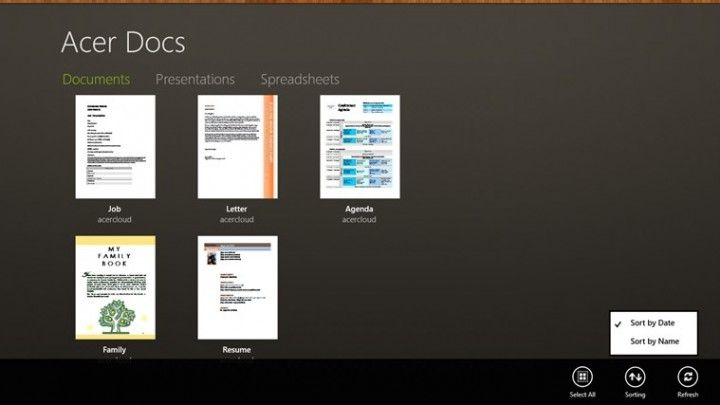 Hence, it is still not a lag in the market for mobile gadgets and even as ultrabooks and laptops (the Acer it is quite a level on average for the industry), but something else. What?
Before you try to make his own hypothesis, I propose to look for ways out of the crisis, which marked the guide Acer press release timed to coincide with the next disastrous financial report. In the first place put advertising (in my humble opinion – absolutely tasteless and cheap) move to voluntary pay cuts executives as much as 30%. Wages are reduced directly from the month of January – as a demonstration of willingness to "share responsibility" – and will not rise as long as the "business does not go on the amendment and will not achieved its goal."
This measure, of course, only a showcase, but what in fact, that – I quote the press release – is this: "Our products, contrary to leadership in design, does not adequately reflect the needs of the market?" In fact, I'll tell you a very interesting move: Acer plans to focus on the development of personalized cloud system that will unite all the laptops, tablets and smartphones of the company!
Quite unexpectedly, is not it? Actually, I would have had to guess about something like that without a press release, because cloud applications on my tablet got me worse than a bitter radish from the first day of use. Then you and the Acer Cloud, and Acer Docs, and Acer Media, and Acer Photo, and Acer Portal, and Acer Remote Files, and Acer Identity Card!
Agree, is hard not to notice the log in your own eye. I managed. How so? It's very simple: briefly reviewing these functional applications and enjoying their intolerable nuisances (walk into the soul alternately one after the other with your questions, requirements, tips and applications every 15 minutes!), I have them all sryli quickly out of sight! Enough of me nightmares OS itself, which as an interface for finger input competes with coitus in a hammock!
So, Acer sees salvation in the rate of the creation and promotion of the cloud system. For those who have not guessed – a la Apple. In my opinion, absolutely lethal rate. And if anything in the near future in the company's strategy will not change, even afraid to think what it would submit quarterly reports next year.
Why bet on Acer's proprietary cloud suicidal? Because the company is trying to deploy a cloud strategy – unlike Apple – over the opponent's operating system! Besides monstrous system for mobile market (it's about Windows). Acer Cloud over Windows 8, which also hides the cloud itself Microsoft, as well as a cloud over Acer Android, fully sharpened on cloud services Google, – this is some terrible chimera. The only reaction mass consumer, on what can be expected in this situation, is that all applications Acer uninstall very quickly that they are not underfoot and do not interfere in the work, though uncomfortable, but still have the familiar environment.
What do Acer? In my opinion, there are only two options – to come up with a new and attractive image for your brand or reinvent its operating system for mobile gadgets (something like Tizen). Another one is not better, and do not even know that complicated. Alas, no other alternatives does not occur. But at least will be any chance to survive. Chance, which is completely absent at the rate of a proprietary cloud-top setting foreign operating systems.
Tags: AcerBroken Pixelcloud servicescloud systemsGolubitsky